Pistachio Date Balls with Chocolate
Addictingly sweet and decadent pistachio date balls with the perfect amount of melted chocolate.
If there is one ingredient that I am obsessed with, it's Turkish pistachios, They are bright green, fruity, slightly nutty, and loaded with nutritional value. These nuts are by all means incomparable to California pistachios…sorry.
When paired up with sweet dates and chocolate, these Pistachio Date Balls with Chocolate become a real treat.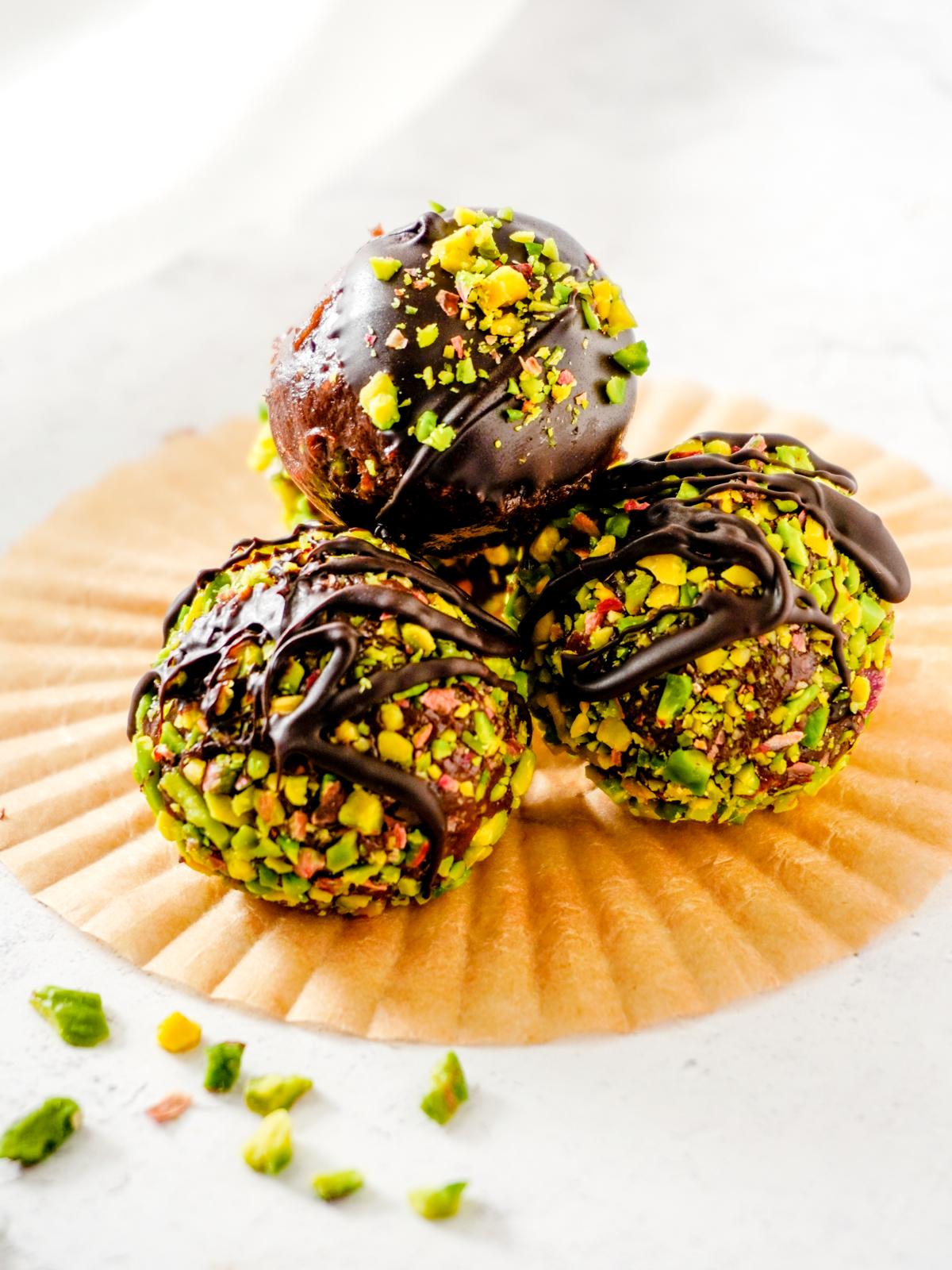 It's too hard not to share these tasty treats! I knocked on my neighbor's door and handle them a few in cupcake wrappers and some when to my sister-in-law's home. She especially loved them with coffee.
Tips
Use a food processor. I find that the dates stick to the sides of the wall too easily when using a blender. A food processor will help with that problem.
Use your favorite chocolate. These pistachio date balls are a treat, so use the best ingredients.
Use Antep pistachio. California pistachios are simply not the same.
Add a pinch of sea salt. This will help balance out the flavors.
How to Make Pistachio Date Balls with Chocolate
I am so excited to share how easy it is to make these date balls with you.
First, add all of the ingredients into a food processor. Process until a thick brown dough-like consotsancey forms.
Then, made in the pistachios, vanilla (if using, a pinch of salt and process once again long enough to combine.
Finally, drizzle melted chocolate on each ball—sprinkle a little crushed pistachio on it for decoration, and voila—done! Ready for snacking.
Pistachio Date Balls with Chocolate
Instructions
Add the pitted dates, pistachios, vanilla, and sea salt to a food processor. Process until a sticky cookie-dough-like mixture forms. Form the "dough" into bite-sized balls. Set aside.

Next, place the chocolate chips into a microwave-safe bowl. Microwave for 60 seconds. Carefully grab the bowl and allow it to set on the counter for another 60 seconds. When ready, stir the melted chocolate with a dry spoon. Mix until silky smooth. 

If you find that your chocolate has yet to melt, place it back into the microwave for 30-second intervals.

Finally, dip or drizzle each pistachio date ball with the chocolate. Garnish with extra crushed pistachios and/or sea salt.
pistachio date balls, bliss balls, date balls