Best served straight from the freezer, these No-Bake Labneh Cheesecake Bars are such a delightful treat during the hot summer months. The cashews make this dessert creamy without having to add heavy cream. It has a nice tang from the fresh lemon juice and is naturally sweetened with pure maple syrup.
More importantly, as I mentioned above, they keep really well in the freezer, and anytime a craving kicks in, simply grab a square, give it a few minutes to thaw for the perfect creamy texture, and enjoy on-demand.
On a more personal note, we are in the hottest week of summer so far here in Turkey. It's blazing hot! Because it's so hot, I am sipping on ice-cold coffee to cool me down as I share this totally crave-worthy Labneh Cheesecake Bar with you AND I couldn't be more excited to do so. ♡
What do I love about this recipe? It's the cashews—they create a luxurious, healthier, cream-like texture that complements these bars so well.
The crust is made out of almond flour, which is naturally gluten-free and has a nice nutty taste. The recipe calls for butter, but feel free to swap for vegan butter, if necessary.
What is Labneh?
Labneh is a dairy product that is made out of strained yogurt. It's thick, spreadable, creamy, and has all of the probiotic goodness just like regular yogurt. It has a slightly cheesy flavor. Some eat it for breakfast with dollops smeared onto a plate with za'atar and a drizzle of olive oil.
Tips for Making the Best Labneh Cheesecake Bars
Use your favorite Labneh brand. Not all labneh is created equally. Taste it before using it. If it doesn't taste good on its own—don't use it! My favorte brand is Pinar.
Use a high-speed blender. All of the "cheesecake" base ingredients will go straight into a blender. Easy, peasy. This will ensure that the texture of these bars is without a doubt, the healthiest and creamiest cheesecake you've ever eaten.
%100 maple syrup is a MUST. This all-natural sweetener adds a wonderful taste. Dates will turn your bars a brownish color, and I don't recommend using honey.
Don't skip the lemon. It adds a wonder nice sharpness and without it, it's rather lifeless.
Swaps and Variations
I used my all-time favorite nut—Gaziantep pistachios. These pistachios are fruity and have a nice crunch to them. If you are unable to find Antep pistachios, here are other ways to jazz up your labneh bars.
A swirl of your favorite nut butter.
Dollops of jam—swirled around.
Raspberries, blueberries, or blackberries sprinkled on top.
Chopped sugared Lemon peel.
Keep it plain.
I don't recommend using chocolate because these have a lemony taste. However, if you enjoy the combination of lemon and chocolate, go for it!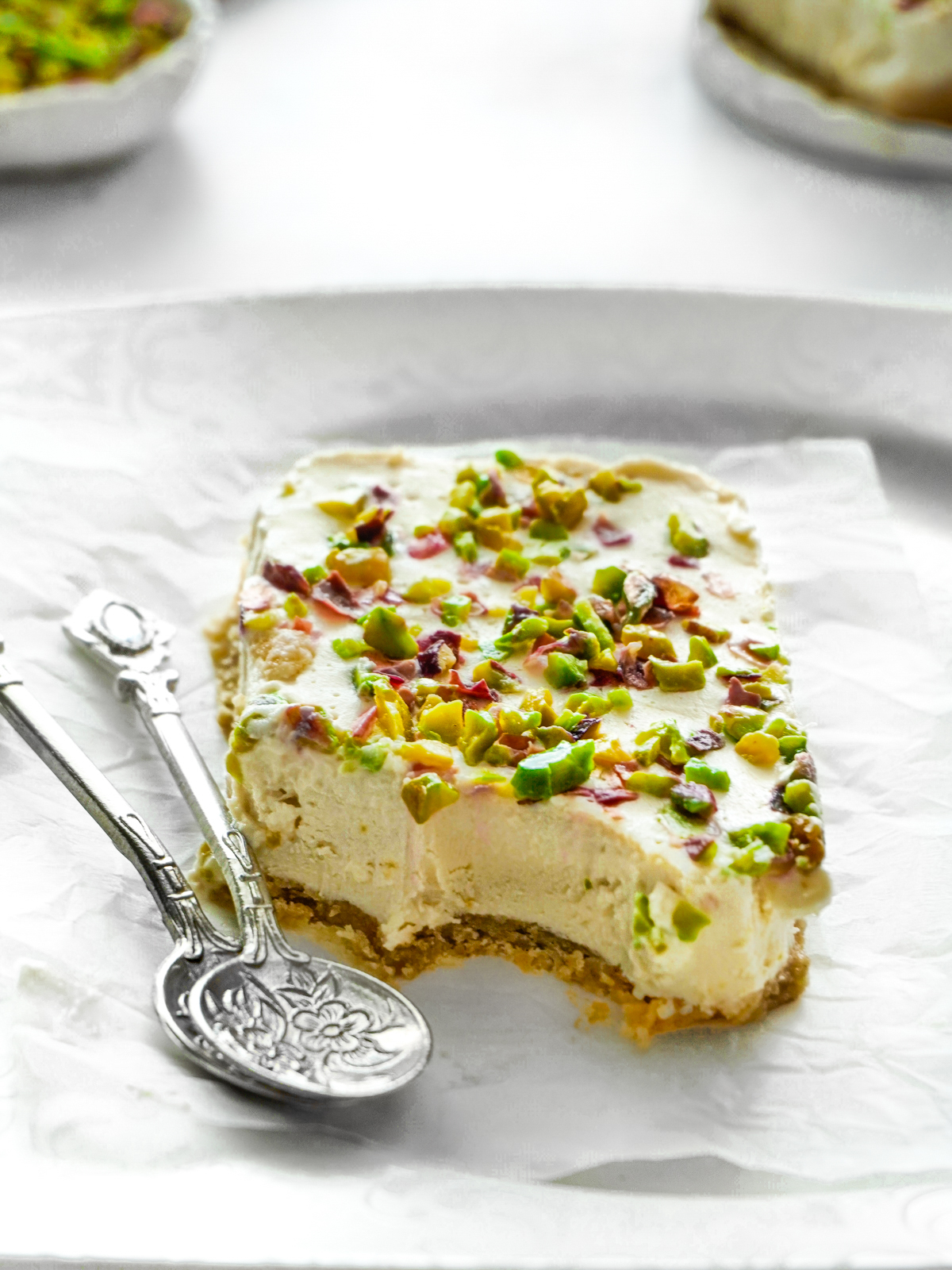 More Cravae-worthy Recipes
More Crave-Worthy Recipes to Try